Trip number thirty to Bonaire was even more appreciated than our trip in February 2010. The snow and weather we have been having here in the northeast this year made last year's winter seem mild. The following two photos are a test to see if you can tell which one was taken in the northeast and which was taken in Bonaire.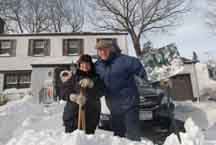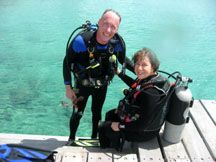 We continue to fly the Continental non-stop from Newark. Not having to worry about connections has really spoiled us. Returning to our two bedroom condo at Sand Dollar is like returning home. Having a complete kitchen is a great way to watch expenses on a trip, though we enjoy eating out as well.

The weather patterns that we have been seeing back home are also reflected in Bonaire. At home it always seemed that you needed an extra sweater, in Bonaire you would need to wear a t-shirt instead of a tank top, life can be tough. The water was also a little cooler for February.

All our diving was done on Bari Reef, the house reef at Sand Dollar. Here are a couple of Alan's photos from this trip.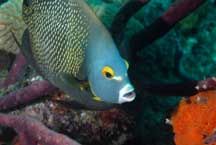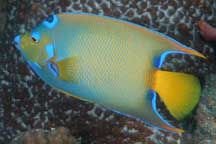 If you would like to see some photos from our other trips please visit our Bari Reef Bonaire Photo Gallery.

A word about diving. When we learned to scuba dive we were always taught to dive with a buddy. In recent years there have been some arguments for solo diving. We could not be more against this. On this trip we encountered a small problem while diving, having a buddy there to assist in fixing the problem prevented a situation from getting worse. We have never solo dived and would advise all our friends never to solo dive either.

Besides all the spectacular diving, another asset of Bonaire is all the fine restaurants. We returned to all our favorites including Bobby Jan's Take Away ( an absolute must ), Capriccios and Donna & Giorgio's. We also went to It Rain's Fishes, a place we had not been to in a while, and left saying why has it been so long since we've been here? It's worth a visit. We also discovered Paradise Moon and had an excellent dinner there right on the water.

Another interesting experience on the island is purchasing fresh fish to cook yourself. We always wondered why we could not find any in the supermarkets until somebody explained you need to go to the fishermen's house. We found Niki's Fish located on Kaya Dialma, very close to our condo at Sand Dollar, and have been going to him now for a number of years. It's fresh, at times we have caught him just returning in his car proudly holding his day's catch, and very reasonable.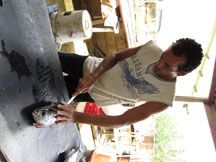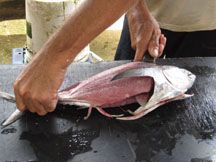 As always, we updated our Bonaire suggestion sheet again. It is a continuing work in progress and contains information about the different grocery stores, their hours and directions. It also includes some restaurant suggestions, things we found fun to do, and other useful island information. If you would like a copy just send us an e-mail.

We're all set for our summer trip, we just booked our tickets