BonaireTalk Discussion Group
Trip Reports: Lucky Trip #13
Bonaire Talk: Trip Reports: Lucky Trip #13
---
Apparently this reptile never saw "Poltergeist". If Hans the Hawksbill isn't promoting a new ad campaign for Bonaire, he certainly should be. Someone give this turtle a contract ASAP



The water temp was above normal during our two-week stay…unbelievably warm. There was a problem to never feeling chilled: we didn't want to leave the water. It was a good thing the World Series was broadcast on Flamingo TV or we might never have had an excuse to dry off.

So what was going on around the reef that kept us submerged?



We decided to mix it up this year, in terms of lodging. We spent week one at Sabal Palm 10 and week two at LBR 13. Both locales were ideal for our style of island living as well as serving as a comfortable base for diving. We never had the slightest concern about security at either place. LBR 13 has an excellent alarm system. And Sabal Palm feels like a gated community surrounded by thorn bushes that even Br'er Rabbit couldn't penetrate. Anouk and Debbie know how keep their guests happy.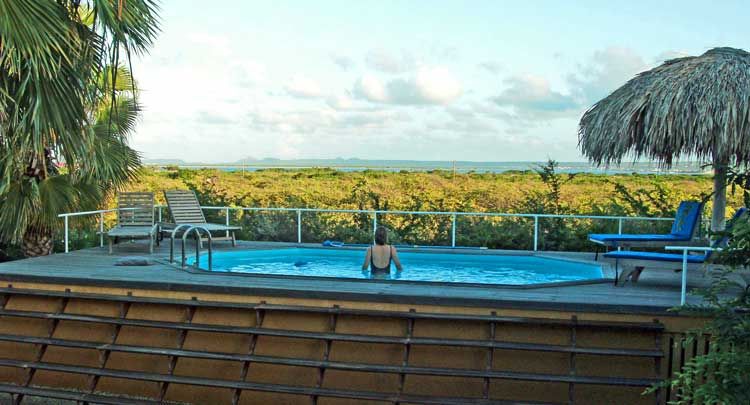 And high snaps to Gus and team at Dive Friends Port Bonaire who make switching tanks a breeze…and whoever is way overfilling the tanks, you're not getting paid enough.

The only downside to our trip was witnessing the reef turn white. The coral bleaching was very unsettling to observe. This would be easier to accept if it were a natural cycle but it's hard to ignore the scientific data which points to an anthropogenic origin. It was a sad state of affairs to watch the vigilant damselfish protecting their now snow-white homes, but maybe they know the plankton will return someday soon to re-colonize the polyps.

Let's hope so.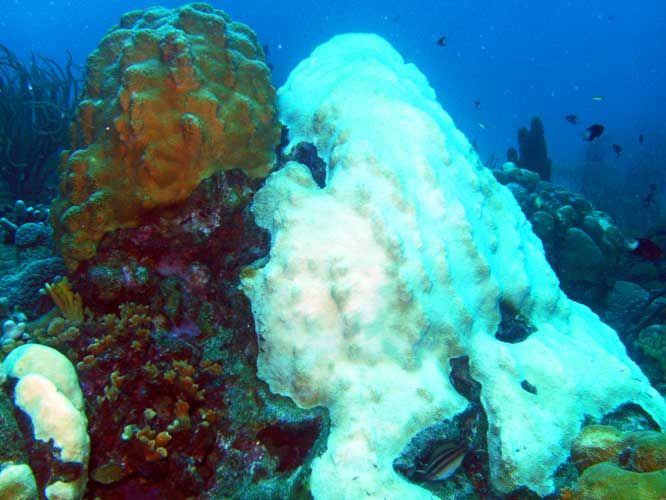 PTSD

Apparently there is no successful treatment for the life-altering after-effects of the water-borne syndrome, PTSD. (Pretty Terrific Scuba Diving) The symptoms usually manifest after returning from Bonaire as one struggles to return to a normal routine There are a cluster of merciless after-effects as one strives to maintain focus against a barrage of aquatic flash-backs, along with the inability to track conversations and attend to menial tasks. When surrounded by the mundane-ness of life, our minds are lost in an existential sea of Pixar-quality images that bear a resemblance to the following:

(With an appreciative nod to Iz the Great and many apologies to Green Day who have every right to sic their attorneys on us)



We just received our E-tickets from American Airlines for next October. Oddly and hopefully not prophetically, our inbox also contained a letter announcing the end of the world on May 21, 2011. Note to Universe: if it's all the same to you, please postpone end of world until AFTER October…thanks!


By KOB (Experienced BonaireTalker - Post #321) on Sunday, December 5, 2010 - 11:19 am:
Great trip report & great video. Thanks for sharing. Now I have a bad case of PBD !!
By Lori Mulhisen (BonaireTalker - Post #93) on Monday, December 6, 2010 - 10:08 pm:
Greg & Lani--Awesome composition and video editing! Thank you so much for sharing!
Great job Greg & Lani, thank you for taking the time to post this.
Greg and Lani...WOW!!! Thank you for continually including us in your trips. This was fantastic to view!!!
What great videos and music!!!!!! Thanks so much for sharing!!!

I need Bonaire, BAD!!
---
Visit: The Bonaire WebCams - Current Bonaire images and weather!
The Bonaire Insider - the latest tourism news about Bonaire
The Bonaire Information Site, InfoBonaire
Search Bonaire - Search top Bonaire Web sites
---