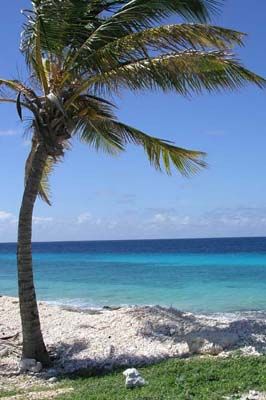 Pink beach

My husband Ken, son Trevor-12, and I visited Bonaire three times this past year, but this is my first trip report. It has been interesting to see the island at different times of the year...first in March, then June/July, and most recently Dec. 18-Jan. 4. (Can you tell we like the place??) Previously we stayed at Lion's Dive and Sand Dollar. This past summer we found ourselves doing most of our diving on the south end of the island, so for Christmas we stayed at Lighthouse Beach Resort. We stayed in Debbie & Gregg Babcock's unit #13 and LOVED it! It is a spacious 2 bedroom/ 2 1/2 bath townhouse, and it really felt like a home away from home. They have a fully stocked kitchen with every utensil you could imagine, and even an iron and ironing board upstairs...which I meant to use but never got around to! We just got used to the wrinkled look after a while! There was a nice surprise welcome package of milk, cheese, bread, peanut butter & jelly, soda, and fruit when we arrived which was WONDERFUL because it kept us from having to dash out to the grocery right away. (By the way, for those of you new to the island, if you are addicted to soda like I am, Bonaire Warehouse had cokes and pepsi's for about half the price as Cultimara!) The Babcocks have put security bars on the windows, door, and screened porch, so we were always able to open everything up to enjoy the breezes. This was really important to me because I wanted a very safe and secure place to return to this summer because Trevor and I will be down there by ourselves most of the time since my husband doesn't have as much vacation time as I do (being a teacher definitely has some advantages!) It is set-up well for divers because there is a rinse tub outside, an outside shower, and an inside laundry room with a tiled floor and drain where you can hang your bc's, wetsuits, etc. to dry without worrying about them.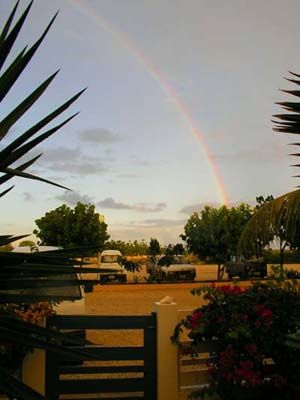 View from LBR #13's front yard

The diving was easy as usual and water temps. averaged 80 degrees. I saw more barracudas and octopuses (octopi?), both large and small, this trip than ever before. They seemed to be at every site with very large ones at The Lake, The Cliff, Hilma Hooker, and Red Beryl. We also saw several large Southern stingrays and a few spotted eagle rays.



The visibility wasn't as good as spring and summertime. There was a lot of floating sediment in the water. I don't know if this was because Bonaire was just coming out of her rainy season??? There were occasional periods of rain while we were there, but they didn't last long and they definitely didn't keep us from doing anything. Overall, the winds were very mild, and on some days, almost non-existent. All 3 of us dove places like Red Slave, which Jessie Armacost's book lists as an advanced dive, but the currents were only mild to moderate. We saw a LOT of dead sea fans at around 40' on the edge of the reef at Red Slave. There were also a lot washed up on shore as well. Was this a result of the last hurricane that came near? The only dive we found to have a strong current was White Slave. It was also very murky in the shallows from all of the sand being stirred up. This trip we tried some places we hadn't before, such as in front of the Belmar. There we saw a large octopus near the shore, a school of small barracudas, a school of jacks, a large puffer, along with the usual.


Porcupine at Ol'Blue

We also tried the Invisibles, which didn't have a hard entry like I was expecting. There were a few holes to navigate around, but they were easy to see and feel. The Rock was also a new one for us...it had a super easy sandy entrance! Saw a big lobster, an octopus, scallops, and quite a few french angels, both juvenile and adults.



Red Beryl had a fairly easy entrance, plus we saw a turtle there. We also saw turtles, green and hawksbill, at Margate Bay, Karpata, Chocogo, Andrea I, and Ol' Blue.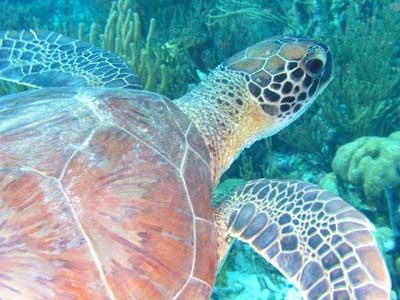 Hidden Beach was very lush with lots of soft corals. The entry was harder than the book suggested. There were small to medium rocks beyond the sand where we went in...similar to the entry at Hilma Hooker. Other first time dives for us were Vista Blue, Karpata, Chocogo (spotted eagle ray, Southern sting ray, and juvenile hawksbill), Fish Hut, Pink Beach, and Oil Slick Leap.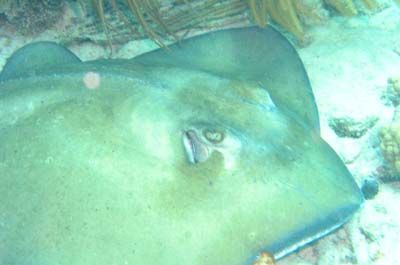 Southern Stingray at The Lake. He stayed in one place for over 5 mins., then slowly swam away. I shot a quick movie of him on my digital camera, but I don't know if I can post that here. ???

My favorites are still The Lake, Margate Bay, and Salt Pier. Trevor counted 11 spotted drums under the pier. We also saw the same french angel there that we had seen last summer. She has a distinctive notched dorsal fin and is very friendly. We also saw the same(??) large green moray...about 5-6'long free-swimming there again. There also seems to be a resident chain eel there as well. Ol' Blue has become one of my new favorites because we saw squid there each time over the staghorn coral in the shallows, plus a turtle, and it has such an easy entry. I really like Oil Slick Leap as well...it's very different, and there were a lot of large midnight and rainbow parrotfish. I also saw a crab there that I can't identify.


Mystery Crab at Oil Slick Leap


Green moray at Andrea I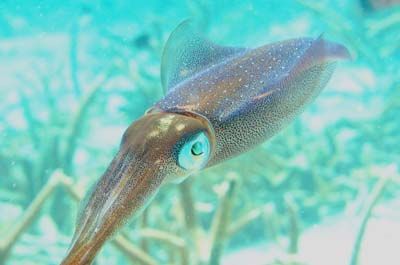 Squid at Ol'Blue

We made our last dive of the trip at Ol'Blue, and there was a Blue Runner that decided to accompany us for over half of our dive. He'd swim back and forth between my husband and me and would chase away any other fish that came near! And we weren't feeding him - promise!